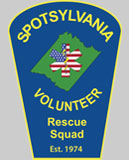 Call Stats
Mon
2021
2022
2023
Jan
214
204
Feb
158
183
Mar
182
131
Apr
214
134
May
173
156
Jun
201
125
Jul
136
115
Aug
191
125
Sep
133
102
Oct
239
102
Nov
250
117
Dec
224
94
Total
2321
1588
Web Counters
Website Visitors
Since
January 30, 2007

Visitors Today
Feb 01, 2023

CEU and Learning Opportunities with SVRS
By Training Officer Victoria Lunceford
September 1, 2019

Did you know that one of the perks of becoming a member of Spotsylvania Volunteer Rescue Squad is the opportunity to have various avenues to keep up your Continuing Education Units (CEU) and to be involved in fun learning activities? SVRS host two EMT classes each year to educate those in our community and to provide them the chance to obtain their Virginia EMT and NREMT. Our instructors work hard on creating fun and interactive learning modules throughout the class that help reinforce the chapters that are being read and lectured on a weekly basis.

With that being said, these classes are not only for those who are trying to obtain their EMT. Any healthcare professional who is in need of CEUs or who would just like to stay up to date on the ever changing skills and scope of practices are welcome to join us for these classes. Please check out our most up-to-date attachment that has the class schedule which typically meets Mondays, Wednesdays, and intermittent Saturdays. If you have any questions or concerns, please reach out to Torri Lunceford at training.officer@spotsyrescue.org




MCI Training




CPR Training




Working on class presentation on the Human Body




Helo Education up close and personal




"Patient" transport during MCI training




MCI Triage Training




New EMT students getting to know each other as they will be working with each other for the next few month and hopefully into the future as SVRS members!




Working on class presentations on the Human Body




Working on class presentations.




Presenting information on the Integumentary System.




Presenting the Muscular Skeletal System to the class.