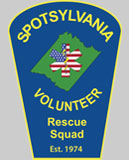 Call Stats
Mon
2021
2022
2023
Jan
214
204
112
Feb
158
183
94
Mar
182
131
88
Apr
214
134
50
May
173
156
66
Jun
201
125
66
Jul
136
115
99
Aug
191
125
98
Sep
133
102
76
Oct
239
102
61
Nov
250
117
Dec
224
94
Total
2321
1588
810
Web Counters
Website Visitors
Since
January 30, 2007

Visitors Today
Dec 08, 2023

Emergency Medical Services (EMS) Week is quickly approaching!
By Rescue Chief 1 Kimberly Madison
May 3, 2023
May 21-27, 2023, is the 49th annual National EMS Week. In 1974, President Gerald Ford authorized EMS Week to celebrate EMS practitioners and the important work they do in our nation's communities. This year's theme is EMS: Where Emergency Care Begins.
Theme Days
Sunday – Health, Wellness and Resilience Day
Monday – EMS Education Day
Tuesday – Safety Tuesday
Wednesday – EMS for Children Day
Thursday – Save-A-Life Day (CPR & Stop the Bleed)
Friday – EMS Recognition Day