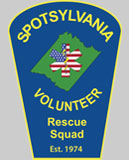 Call Stats
Mon
2021
2022
2023
Jan
214
204
112
Feb
158
183
94
Mar
182
131
Apr
214
134
May
173
156
Jun
201
125
Jul
136
115
Aug
191
125
Sep
133
102
Oct
239
102
Nov
250
117
Dec
224
94
Total
2321
1588
206
Web Counters
Website Visitors
Since
January 30, 2007

Visitors Today
Mar 30, 2023

By EMT-I Jim Lehnert
January 6, 2017
SVRS will be holding a raffle for this beautiful quilt on February 14. A local quilting group donated quilts to each of the cancer survivors on the squad, along with one extra for the raffle. The extra will be raffled off with the proceeds going toward the purchase of EMS equipment. There are 200 tickets, $5 each, or 3 for $10. Contact Pat Rumsey at parinky@aol.com to purchase tickets.
kelly
February 21, 2017 at 2:45 PM
The quilt is beautiful. The picture didn't do it justice. My family won this quilt. Now they are arguing over who gets it...lol
Thank you Pat, it truly is lovely.