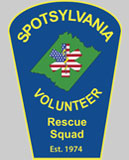 Call Stats
Mon
2012
2013
2014
Jan
263
295
253
Feb
262
226
244
Mar
280
272
301
Apr
261
263
261
May
312
290
298
Jun
314
334
282
Jul
303
306
289
Aug
275
304
341
Sep
289
278
287
Oct
247
278
0
Nov
262
281
0
Dec
265
285
0
Total
3333
3412
2556



Visitors Today:

Visitors Since
January 30, 2007:


---
Let Them Eat Cake!

EMT-I Jim Lehnert, September 09

During the September Business Meeting, Jake Marshall from Spotsylvania Regional Medical Center dropped by to present certificates and a cake to a crew who recently had a STEMI "Save".

A STEMI (ST Elevation Myocardial Infarction) is a type of heart attack that has a very high mortality rate if not treated. However, if a STEMI is recognized early and the patient taken to a hospital capable of Percutaneous ... (Full Story & Photos)



L-R Jake Marshall (SRMC), Anita Volante, Antonio Marcus, Laura Genao

SVRS Supports the Marine Corps Historic Half Marathon

EMT-I Jim Lehnert, May 18

As we have since it's inception, SVRS supported the Marine Corps Historic Half Marathon held in Central Park and downtown Fredericksburg. With perfect weather for the race, there were very few injuries and medical emergencies, and crews returned to the county shortly after noontime. A good time was had by all.... (Full Story & Photos)

Spotsylvania Volunteer Rescue Squad training with Girl Scout Troop 3721

Jodie Scott, November 27

On Saturday, October 19th the Spotsylvania Volunteer Rescue Squad had the honor of being invited to join Girl Scout Troop 3721 for a little training!
Squad members Kelly Sands and Jodie Scott arrived at the KOA Campgrounds in Massaponax to help the young ladies earn their First Aid Badge. The girls were able to see both the inside and outside of an ambulance. The fun really began when the Girl Scouts ... (Full Story & Photos)

Spotsylvania Volunteer Rescue Squad Annual Banquet

Rescue Chief 2 Kimberly Madison, November 12

On October 19, 2013 Spotsylvania Volunteer Rescue Squad (SVRS) held their annual banquet and installation of officers. Themed "Harvest Fest," the event was held at the American Legion Post 320 on Brock Rd.

The guest speaker was Mr. Tim Perkins, EMS Systems Planner for the Virginia Office of EMS. Mr. Perkins spoke of his own EMS experience when he was injured in a bicycle accident in the County. ... (Full Story & Photos)



Award Winners: Kris, David, Bill and Kim

Love The Beard

Statistician Robert Hayden, August 10

Plenty of people turned out for the Love for the Beard competition at Spotsylvania Towne Centre Saturday to raise money for the Rappahannock Area YMCA and the Children's Miracle Network. Among the attendees were our very own David Beachboard and Robert Hayden providing standby EMS support. When David and Robert were approached by the YMCA to participate in the event, they accepted and began growing ... (Full Story & Photos)

6th Annual Marine Corps Half Marathon

EMT Charles Duckett, May 20

On May 19, SVRS turned out to support the 6'th Annual Marine Corps Historic Half Marathon. Starting in the Celebrate Virginia complex, the races winds along the Rappahannock river and in through historic Fredericksburg, before returning back to the starting point.
The event consisted of the 13.1 mile half marathon, along with the Historic 10K, and Semper Fred 5K races. Over 7781 runners finished ... (Full Story & Photos)



The crews prior to the race.


The new unit (L) and the older unit

SVRS Puts New Unit into Service

EMT-I Jim Lehnert, April 14

On Saturday April 6, 2013, Spotsylvania Volunteer Rescue Squad proudly placed in service the newest addition to its fleet, replacing an older unit at the Brokenburg station. The new unit is a type 1 ambulance built by Medtech on a 2012 Ford F450 chassis. The new 4 wheel drive ambulance features state of the art technology including an all LED lighting package, and a special low frequency siren designed ... (Full Story & Photos)