The Spotsylvania Volunteer Rescue Squad serves the citizens of Spotsylvania County, Virginia. Located along the I-95 and U.S. 1 corridor between D.C. and Richmond, "Spotsy" is a
mixed urban and rural county covering 400 square miles with a population of nearly 190,000. Rich in American history and southern charm, Spotsylvania County has become a popular tourist destination and is the 3rd fastest growing county in the state. Unique county hazards inclue the main north/south CSX rail line, a municiple airport, I-95, US-1, State 17, Lake Anna, and the Lake Anna Nuclear Power Plant.

Organized in October of 1974, SVRS was first described as "a dream becoming a reality." Recognizing the need for an emergency first aide service, the Spotsylvania County Women's Club offered the first training course with the assistance of William Billingsley. A former member of the Fredericksburg Rescue Squad, Billingsley was instrumental in his teaching and organization of SVRS. Later in the year he became the first squad president and received an honorary life membership.
The first ambulance operated by SVRS was a converted Chevrolet wagon purchased from the Fredericksburg Rescue Squad. During the first few months it was equipped only with the bare necessities. As donations increased members were able to purchase the "nice to have" items. Members fashioned other equipment such as short and long backboards, padded splits, and medical storage boxes. The first station was a garage and single room donated by the Spotsylvania Volunteer Fire Department. Remodeling and equipping was done completely by squad members. Station 1 contained a living, sleeping and dinning area. Restroom facilities were located across the street in the firehouse.
Currently SVRS operates in conjunction with the Spotsylvania County Department of Fire, Rescue, and Emergency Management to meet the ever growing needs of Spotsylvania. SVRS volunteers staff EMS stations 1, 2, 4, and 8, nightly Monday through Thursday 6 PM - 5 AM, and 6 PM Friday through 5 AM Monday.
7200 Courthouse Commons Blvd.

Spotsylvania, VA 22553

11701 Volunteer Lane
Spotsylvania, VA 22551

4804 Bancroft Rd.
Fredericksburg, VA 22408

6429 Jefferson Davis Hwy
Spotsylvania, VA 22553

8711 Courthouse Rd Spotsylvania, VA 22553
---

A Special "Thank You"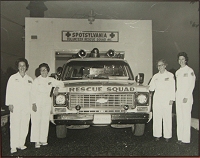 On behalf of all past, current, and future members of SVRS, we would like to extend a special thank you to a group of people who could not be thanked enough. Those listed below saw the need, found the means, and made a dream become a reality. Thank you for your hard work and your never-ending dedication to the organization.





A. Miller Arritt III, Phyllis Bartley, Francis C. Boggs, Shirley P. Boggs, Harry Byies, Stephen Cloutier, Maria Czemez, B. Richard Garland, Shelia Garland, Bernice Hawkins, Kathleen H. Howard, Russell L. Howard, Robert E. Landrum, Eric Prasse, Mary Price, Richard Rhoades, J. David Satterwhite, Donald R. Shelton, Stuart L. Taylor, Virginia J. Taylor, Ernest L. Thaxton, Bryant S. Williamson.